Thank you NFL for sponsoring this post. Can't wait for my next Homegate!
Sam and I decided to host a Pittsburgh Steelers Homegating Party last weekend, which was super ambitious on our part if you ask me! It was our first night back at home after the big Christmas trip to Montana, so throwing this homegate needed to be easy to put together, while still being super festive!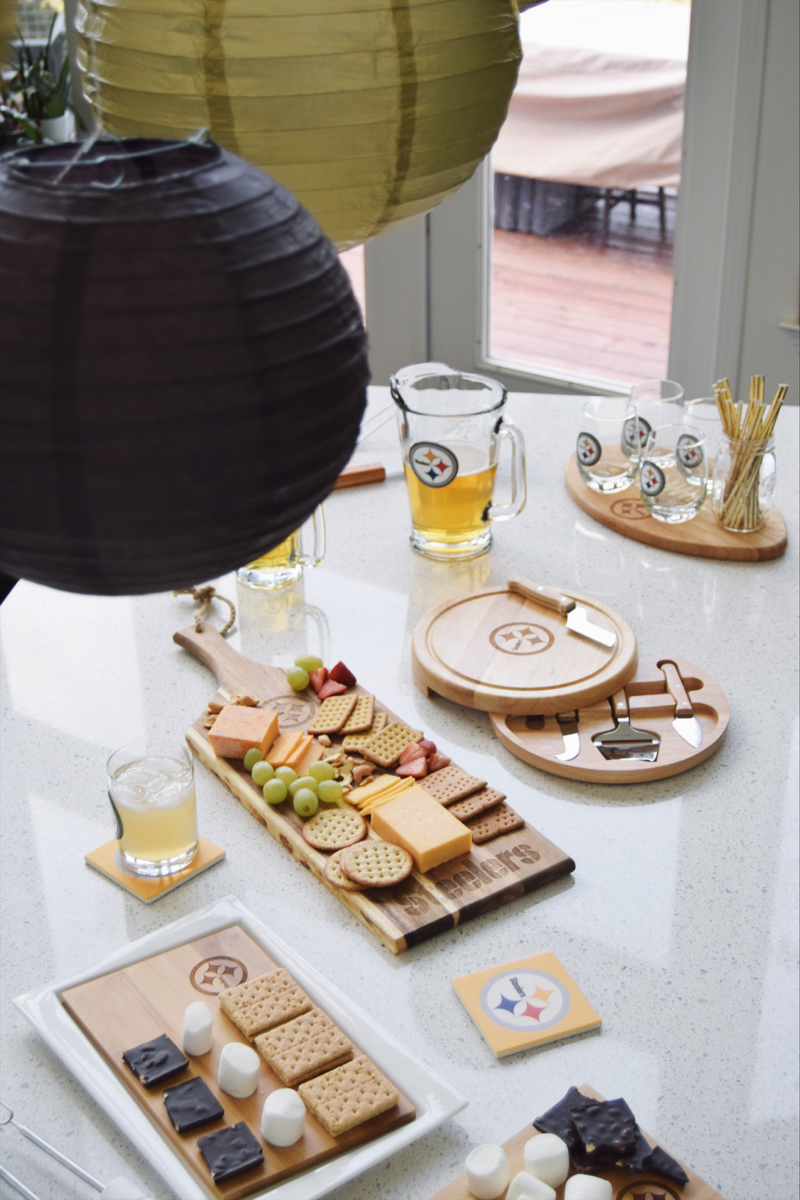 Tip 1: Celebrate with Official Team Party Gear from the NFL Shop
Throwing an NFL Homegating Party could NOT be any easier without all of the official team party gear that you'll find through NFLShop.com.
They sell everything from cheese boards, serving platters, drink ware, to shirts, hats, blankets and more. There's seriously no easier way to bring the energy of NFL Football into your home than by decking it out in all of your favorite team items from NFLShop.com/Homegating.
The quality of these products are really great – I especially loved how sturdy the Steelers drink ware was.
Tip 2: Balloons, Team Blankets and Paper Lanterns make Cute, Easy & Festive Decor
I think balloons are seriously underrated! They might seem a tad overused and maybe even a bit cheesy to some people, or maybe just more kid-birthday-associated? But there is nothing that can make a space look party ready as quickly and cheaply as a few bags of balloons can!
Pick out your team colors, string a few together and $6 later your house has complete party vibes! Pair that with a team blanket over the couch, a few paper lanterns over the spread of food in the kitchen and you're ready to go.
Tip 3: Have A Fun Drink Prepared for Guests – Lemon Lime-A-Rita Drop
How to make a Lemon Lime-A-Rita Drop
You need:
4oz Lime-A-Rita

Splash of simple syrup

Sugar Rim

Lemon Garnish

4oz Tonic
Make:
Use a lemon to wet the rim of a margarita glass.

Press the rim of the margarita glass into sugar until rim is evenly coated.

Add ice to the margarita glass.

Pour Lime-A-Rita, simple syrup and 4oz Tonic over ice and stir.

Top with Lemon Garnish and enjoy!
To find out more about Lime-A-Rita, including recipes and food pairing suggestions, follow them on Instagram @lime_a_rita and check out their Pinterest page @Lime-A-Rita.
Tip 4: Have a spread of easy finger foods on your NFL Team Party Platters
You can't really have a Homegate, or any kind of party without food!!! Finger foods are quick and easy to set up – but they're also easy to make look fancy, especially with your NFLShop.com gear. 
I set up a cheese board with a big block of smoked cheddar cheese, a big block of gouda, some fruit, nuts, and crackers and we also had a fire going so I had out ingredients for s'mores as well. And later on Sam made burgers! Everything really came together nicely on my Steelers serving platters and cheese boards.
Tip 5: P-A-R-T-A-Y!
The homegate was a success, the game was a success and we can't wait to throw another one when they make it to the Super Bowl next season 😉 Go Steelers!!!!
Hope these 5 simple tips help with your next Homegate.
I was selected for this opportunity as a member of CLEVER and the content and opinions expressed here are all my own.